This post may contain affiliate links, which means I may earn a small commission for my endorsement, recommendation, testimonial and/or link to any products or services from this website. Your purchase helps support my work in bringing you quality information about frequent travel.
Reading Time:
5
minutes
Saigon is the French name for Ho Chi Minh City. Ho Chi Minh City is divided into different districts and areas. Most touristic things are in District 1 and 3. District 2 and 9 are located on the other side of the river. We will focus on District 1 and 3 in this post, where most activities are. The places are not too far, and you can do them in a day or two. Many are within walking distance, or a short cab ride away.
Send A Letter From Saigon Post Office
This post office is always my first destination when I am in Ho Chi Minh City. The rustic building with the Vietnamese-style interior makes it a lovely place. The outside looks grand and majestic. You will also see lots of street sellers selling food and cards. Moving in, the first thing that caught my attention was the phone booths on the left. I remember spending so much time playing in the phone booths and taking silly pictures.
As you enter, the image above is what you see. A long stretch in the middle with postal services on the side and postcards in the middle. The guy in the picture is Ho Chi Minh. He used to rule Saigon.
At the corridors upon entering, you will see small shops selling lots of things. It is a great place to purchase souvenirs or you can go to Ben Thanh Market for cheaper prices.
Information on Saigon Post Office
Address: 2 Công xã Paris, Bến Nghé, tp. Hồ Chí Minh, Hồ Chí Minh, Vietnam
Operating Hours: 0800 – 1730
Contact Number: +84 8 3822 1677

Pray at Saigon Notre-Dame Basilica
The Saigon Notre-Dame Basilica is one of the main landmarks in Ho Chi Minh. Built with the Romanesque style architecture, it is one of the few French architecture and building in the city. Christianity is one of the largest religions in Vietnam, and you can visit this basilica during the opening hours.
The Saigon Notre-Dame is also just opposite the Saigon Post Office, so you can visit them both in one trip!
Information on Saigon Notre-Dame Basilica
Address: 01, Công xã Paris, Bến Nghé, Quận 1, Hồ Chí Minh, Vietnam
Operating Hours: 0800 – 1700, daily 

Chill in Propaganda Café
I simply love the name of this café. Vietnam is a socialist state and to see a café called Propaganda Café is rather amusing. This café is really popular and have many branches springing up in Vietnam. Upon entering this outlet, I was greeted with a Muriel wall of brightly painted drawing of Vietnamese and their lives.
The café seems to specialise in alcoholic drinks and special shots. But it was too early for us to drink, so we had something light instead. This place is also more frequented by foreigners and expatriates than locals.
The café is also along the side of the main park, opposite Saigon Notre-Dame. After visiting the post office and basilica, you can chill in this café with a nice cool drink.
Information about Propaganda Café
Nearest Hotel: Propaganda Cafe 
Address: 21 Hàn Thuyên, Bến Nghé, 1, Hồ Chí Minh, Vietnam
Operating Hours: 0730 – 2230
Contact Number: +84 8 3822 9048

Watch Sunset at Rooftop Bar
It is not a good trip without a nice rooftop! Ho Chi Minh City has many amazing rooftop bars and clubs, but this is perhaps my favourite yet. This is one of the new rooftop bars that is in Saigon. In fact, the crew was still learning from their supervisors when we were there!
We were there during their happy hour: buy 2 and get the third drink free. We chilled on the sofa seats while watching the sunset and drinking our whisky. I would totally recommend this rooftop bar for one of your nights in Saigon!
Shop in Ben Thanh Market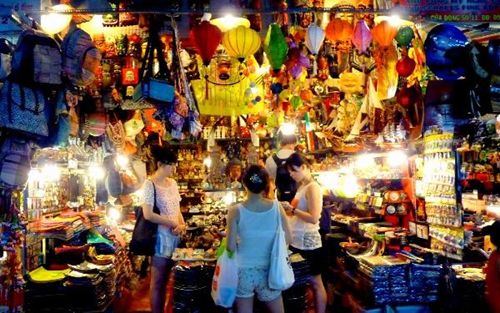 Ben Thanh Market is where you can do your street side shopping. It is a huge indoor building with tons of shops inside, selling all sorts of Vietnamese products. From Blue Mountain Coffee to clothes and souvenirs, you can find everything there. (Picture Credits: Vietnam Paradise Travel)
Beware! You have to negotiate very well for your products. They usually hike the prices up to foreigners, and even more if you are obviously not Asian. You also need to be very careful of your belongings! There are many pickpockets around. In fact, you will probably meet this little adorable girl that is friendly and nice. However, my friend caught the little girl pickpocketing her wallet while shopping!
There is a second level in the market, which tourists do not frequent. Every morning, you will see shop owners going there to pray and worship. This is a morning ritual to wish for good luck. You also get a good view of the market from above.
At night, the market closes but you can move outside towards the streets. Street shops spring up at night to cater to the night crowd. You can also have dinner along the street side. They are inexpensive and really delicious too.
Information about Ben Thanh Market
Address:  Lê Lợi, Bến Thành, Quận 1, Hồ Chí Minh, Vietnam
Operating Hours:  0700 – 1900, Daily

Visit Saigon Opera Hall
The opera hall is impressive for its architecture and design. You can enter to explore inside or sit in for a concert. The opera hall is also in a very central location, which is easy to walk around and explore the city. Opposite the Opera Hall is rows of shops and cafes. Behind the opera hall, there are rows of bars and pubs, a great place to wind down for the day.
Information about the Opera Hall
Address: 7 Lam Son Square, Ben Nghe Ward, District 1, Ho Chi Minh City, Vietnam
Contact Number: +84 8 3829 9976

Shop At Saigon City Hall
The city hall is where you see this magnificent building with the Vietnam flag flying. In front, there is a park with a statue of Ho Chi Minh. He used to be the leader of Vietnam but was known for this authoritative leadership. He is not exactly the best person in Vietnam's history. That is why many prefer to use Saigon over Ho Chi Minh City because Saigon reminds them less of this leader.
On the left of the city hall, you will see this huge fancy shopping mall and Galaxy Hotel. In there, you have all the fancy brands and shopping to do. As a matter of fact, Chanel Saigon is the most profitable outlet by shop size in Chanel worldwide! If you are ready to splurge, this is the place for you.
Information about City Hall
Nearest Hotel: The Reverie Saigon
Address: Lê Thánh Tôn, Bến Nghé, Hồ Chí Minh, Vietnam

War Remnants Museum
If you know anything about the history of Vietnam, it has to be the Vietnam war between the North and South of Vietnam, arguably caused by large Western powers. Wars are terrible, but they remind the new generation the value of peace and stability. The war was beyond terrible, and you can see the process and effects in the museum. I do have to warn you that the exhibits on Level 2 are difficult to stomach.
Vietnam war is also the first war to be openly documented on global national television. Reporters were in the war zone, filming as people were openly fired by the military. This picture is an iconic shot by photographer, Nick Ut. In the museum, you have films and photographs of military blatantly killing the young and innocent. It is cruel, disgusting and horrible. Countries all around the world condemn such acts, and students around the world including France, USA, Germany, held protests against the US to carry on with the war.
The war went on for almost 20 years, with many many many deaths and damages. The worst is probably Agent Orange, a chemical used in biological warfare from the US to Vietnam. The effects are so bad that offsprings in Vietnam still suffer from this horrible biological disorder.
Sharing about the war museum brought cold shivers down my spine. It is a horrible war and I highly recommend everyone to visit it. It reminds one of the importance of peace and the horrible impact of war.
Information about War Remnants Museum
Address: 28 Võ Văn Tần, 6, Quận 3, Hồ Chí Minh, Vietnam
Website: baotangchungtichchientranh.vn
Contact: +84 8 3930 6325
Operating Hours: Daily: 7:30AM–12PM, 1:30–5PM
Do like and share this article with your friends!
Trevellers is my way to change the world. Through my stories, tips and lessons learnt, I truly hope to inspire you to get out of your comfort zone, see the world and see who you truly are. Travel is more than just taking a selfie at beautiful destinations. Travel is an adventure, where you can truly become who you are, give you the time to reflect and grow to become the person you've always dreamt of.